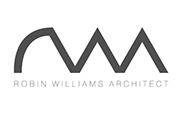 2015 Victorian Architecture Award: Residential - Houses (New)
Jury Citation:
To view Villa Marittima simply as a meticulously detailed example of minimalist architecture would be an incomplete interpretation. This home presents a memorable series of living experiences which arise from unique architectural responses to site, brief and the surrounding landscape.
A simple rectangular plan on a standard sized block is split in two by an efficient central service spine – one half ramped and one flat. Movement between levels is entirely via the ramp which gradually orchestrates a shifting view from sky to horizon to shore, gradually revealing the drama of the landscape beyond.
Structural wall trusses and portal frame solutions combine with durable and recyclable polycarbonate cladding, the appearance of which reflects local weather conditions and time of day, respectively scaled and sited between neighbouring dwellings. Considered exploration of regulatory building solutions and servicing strategies contribute to the seamless flow of space and minimise mechanical heating and cooling systems. The Jury's visit to Villa Marittima on a windy, overcast day only reinforced the discovery and joy of the house and its personal connections with water, sky and landscape.
2015 National Architecture Award: Residential – Houses (New)
Jury citation
Villa Marittima challenges the "norms" as great works must. This villa is about poetry, discipline and commitment. It's also almost impossible to describe, as it is alluring, reflective, abstract and particular. It is at one moment a garage, a shed, a reflection pool, a mesmerizing abstract painting, a framed "James Turrell-like" light-scape, a clever articulate interpretation of the Building Code of Australia and, quite simply, "a joy to live in."
Villa Marittima has the traditional elements of house, those of structure, ground plane and walls, collated in a most surprising way. Rooms could be multipurpose; they are defined more by their relationship to other spaces and their "hidden" elements than by furniture and objects. The ground plane is made up of angled slabs linking to horizontal slabs, both equally used for living on. To live on an angled plane is a challenge met with direct acceptance. The walls are the planar envelopes of the boxes for living – they are all made of translucent polycarbonate cladding, which reflects abstract colour, light and shadow, and does not define detail. Nothing hangs upon these walls. If glass, they become abstract art, cloud-scapes as they reflect the day. The polycarbonate walls brilliantly contain all uses – hidden bathrooms, library, office desk and kitchen – these are the "servants" of the house, only pulled out, revealed and used when needed. They are meticulously detailed items that have minimal tolerances and extensive requirements.
The material palette is clear and disciplined: hot-dipped galvanized steel, aluminium-framed polycarbonate, glass, water and artificial grass. All are materials that will withstand the site's harsh coastal conditions. Structure is concrete slab and steel, seamless and wrapped within polycarbonate sheeting. The structure thus becomes part of the framing element, essential to boxes for living. This framing creates the perspective of reality, a crisp reality of context that comprises seascape and skyscape. It also reflects back introspectively into the house and "frames" the interior activities of everyday life.
A bizarre and joyful experiment in living within an art piece, Villa Marittima is unique. It celebrates the possibility of architecture as art.
Robin Williams Architect © 2015